Drum Roll please ….
I've now moved my blog from Microsoft  Azure to our own Private Cloud running on Windows Azure Pack!  Hurray!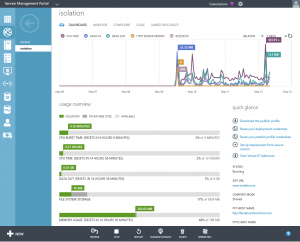 It was a really smooth transition, involving a couple of very easy steps to maintain all blogposts, media and comments.
Provision a new WordPress Blog in Azure Pack.
Login to WordPress to finish the installation.
Upgrade WordPress (to the same version as your old wordpress site).
Add the same Themes as on your old site.
Install WP Clone plugin (free) on both the old and the new wordpress site.
On the old blog, use the WP Clone plugin to make a Backup. When it's done, you will get a URL, save that.
On the new blog, use the WP Clone plugin to import the Backup from the URL you got in the previous step.
In the new site, update your sites URL's. In my case, I chanced isolation.labcenteronline.com to www.isolation.se.
Update your DNS points, to point to your private cloud url (in my case, isolation.labcenteronline.com).
Done!